Disclaimer: This post is not intended to be hurtful, or make you feel bad about your own engagement ring. If you love your ring, I love it for you. Remember, this is just my opinion (and I have a lot of them!)
There are a lot of things that That Groom and I are doing the untraditional way, and the engagement ring is definitely one of them. For us the process involves him giving me a figure, and telling me that all of that money is mine to do whatever I like with. When I first started daydreaming about rings I wanted to spend all of it on the ring, I was so excited that my frugal boyfriend realized that I would want the special at Zales as the ring I would be wearing and showing off to everyone for a long time.
However, as I became more and more engrossed in the wedding planning process I realized that I was a little bit turned off by the whole process. Why do I
NEED
a diamond to prove his love for me? I am disgusted when I read message from women in forums on theKnot and Weddingbee with ladies saying things like "I told him Bigger is Better, and I know he loves me because he spent so much money on it." The more I read up on the history of the diamond industry, the more I felt a little sick to my stomach at supporting the giant pigs at DeBeers.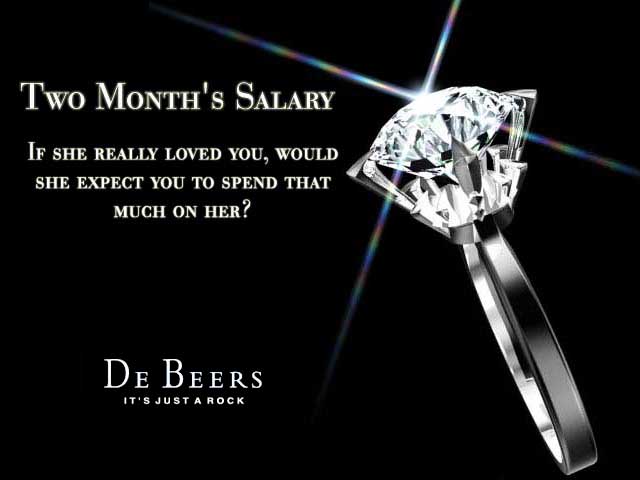 Image found here
It IS just a rock. One that I will probably want to exchange for something different down the road anyways. So I decided to start looking at "used" rings, and realized that I could still get something amazing and feel okay with it sitting on my finger. Unfortunately I am really picky, so the choices for me are few. I think I have found a ring, and I even sent it to him with a plan on how to get it (I am a little queasy about buying something for so much $$$ sight unseen). If things don't work out with this ring, I have a few more ideas in mind.
If you would like to do a little alternative research on your own, may I suggest a few sites to peruse?
I Do...Now I Don't
This site was created by a guy who proposed and then had his fiance give up on the engagement and leave him the ring. He realized that there wasn't really a great way for him to get rid of the ring (because buying a ring online from a person is really scary, how do you know if the ring is made of glass?). An e-bay like site where people can auction off rings they don't want anymore. The buyer sends their money to the company in New York, and the seller sends the ring to the company in New York and after the ring is certified as real the seller gets the money and the buyer gets the ring.
The Natural Sapphire Company
A sapphire is a great diamond alternative because you are still getting a gemstone, and you can even get it in white (which is what I will do if I go with a sapphire). Thanks to
laragale
for this link!
Moissanite
I have heard good and bad things about this man-made diamond alternative. I have a ring with moissanite on my right hand and I think it's really pretty, but I have read comments by other brides that it can discolor over time.
Diamond Nexus Labs
Lab grown diamonds at $79/carat! If the diamond in the antique ring I want is too discolored I am going to order a diamond from here.
greenKarat
If you can't stand the though of not having a real diamond on your finger, here is an eco-friendly diamond site.
What are your thoughts? Anyone know of someone who got a fake ring and then regretted it later on?